Published by Nea Weissberg-Bob, Lichtig Verlag Berlin 2011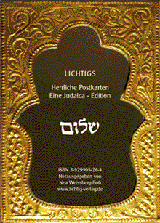 These days, with e-mail the preferred mode of communication, old letters or postcards bring up memories of loved ones and times gone by. Especially when they include traditional images or symbols. Nea Weissberg-Bob is fascinated by decorative and fine arts from 1900 through the 1930s. The photos and ritual Judaica objects she has assembled here recall the past, a lost world. She uncovers the stories hidden in old bookplates: If we know who owned a book, the bookplates also reflect something about the owner's life, fate, surroundings. Weissberg-Bob is dedicated to shedding light on these objects, which allow a glimpse into a lost world. When younger generations connect with Jewish life, they often seek out traditional images, symbols and ritual objects.

The 12 art postcards published by Lichtig Verlag reflect a traditional Jewish atmosphere. Weissberg-Bob has assembled ritual objects that are bearers of memory, depicting everyday Jewish life. The publisher experienced many emotional moments while preparing this edition – such as when she first saw the kiddush cup that had been found after the Holocaust in Berlin garden colony, and which a friend had purchased in 2010. In search of the cup's history, she learned this story:
"My good friend's father, a Berlin Jew from Charlottenburg, born in 1900, survived in hiding. A woman from the Charlottenburg worker's district, with a typical Berlin attitude, had secretly stood up to the Nazis within her limited capacity, and hid the man in the Charlottenburg garden colony from 1943 to 1945.
My friend's father was a secular German Jew, of a socialist bent. After the Holocaust he became more religious and raised his daughter completely in keeping with all customs, rites, chants and rules. But due to his experience of persecution, he did not want his daughter to join the Jewish community. He wanted to be sure she could never be recognized, stigmatized or selected. In 2010 a friend bought the kiddush cup in question at an auction, and presented it to her; she was very moved. After the war, this very same brave, courageous and upright German who had helped her father survive became the family's maid and nanny, and was cherished by the family." This story is repeated on the card, "Kiddush Cup." In an antique shop on the Baltic Sea, Nea Weissberg-Bob found a 19th century silver-plated tray, which inspired the postcard design "seder plate." After the anti-Jewish pogrom of November 9, 1938, the plate was without a home; the family that once owned it and decorated their Pesach table with it was gone. Nea Weissberg-Bob shares this story, too: "In 1989 I passed by a junk shop in Lübeck, and went in. A tray had caught my eye: Its silver-plating was quite tarnished, and areas were pitch black. I tried to decipher the Hebrew engraving, I gazed at the two lions holding up three Hebrew letters. Something reminded me of my childhood. This tray will be much too expensive, I thought. I took the rectangular object in my hand, my heart was pounding, I asked the shopkeeper what it was, where it came from. He answered casually: 'Ach! That's an Easter plate, it was found some time or other in a church that burned down.' Suddenly, I could almost smell the smoke; I raised an eyebrow suggestively, and images popped up as if on cue: Could it have been 1939? And maybe it was in a synagogue?... maybe even in Lübeck?? "I wanted the plate, and asked off-hand about the price. 'Well, you'll have to clean it up quite a bit. I'll take 20 DM for it,' he said with a grin. I was already holding it tightly; I purchased it without a second thought, because I knew it was a seder plate and I wanted to give it to my boyfriend for his birthday. I spend an afternoon polishing it, and lo and behold, it was a gleaming silver tray. Again I peered closely at the letters, as though they might begin to speak, and I could almost hear the melody of 'Ma nishtana.'" On this seder plate (which represents the order of the seder and the ritual) the names of the required symbolic foods, like maror (horseradish) and charosset are engraved in Hebrew letters. Charosset stands for mortar, a reminder of the clay with which the Israelite slaves constructed buildings for their Egyptian masters. The "mortar," represented by a mix of chopped almonds, raisins, apples, a pinch of sugar and cinnamon and few drops of wine, is one of the ritual foods "that I cannot resist," says Nea Weissberg-Bob. Weissberg-Bob, publisher of "The Sabbath Queen: Queen of the Holy Days," "Nejush: Luck Embraced Me," and "Nejush, the Hand of Miriam," found the postcards, printed images and religious objects through acquaintances and friends in Germany, Poland, France and Israel. For them, these items evoke remembrance of the past, of a time "before": "The catastrophes cannot be undone. The Judaica presented here are an attempt, and a temptation; they represent the longing for a bygone world, and for me the reflect the atmosphere of Jewish art and tradition. These objects of daily use speak to me, when I encounter them in silence."

This very effect is evoked by the 19th century challah cover reproduced on one of the cards: "I can smell the aroma of the braided yeast bread with its poppy seed topping; I savor the first bite after the kiddush has been sung; the bread tastes as sweet as cake." The pair of candlesticks reminds Nea Weissberg-Bob of her mother, and of her own childhood. She can almost hear her mother recite the blessing over the Sabbath candles again, "as if she were whispering in my year: Blessed art Thou, the eternal one... I see her wearing her headscarf, I see her waving her hands three times over the candles, then covering her eyes with her hands and pronouncing the blessing, murmuring an added wish of her own, sighing wistfully, seeming to slip back into the world of the Holocaust, forgetting that we children are there, longing in vain to be recognized and included... I close my eyes, hold my breath and feel an overwhelming closeness to her."

Nea Weissberg-Bob, publisher of the Lichtig Verlag in Berlin, on what moved her to produce this edition of postcards:'Lichtig's Fabulous Postcards – A Judaica Edition' connects me with Jewish tradition. Because I am one of those who no longer keeps the religious traditions, and only goes to the synagogue on the holiest days – on Yom Kippur and Rosh HaShanah and Pesach."

Sharon Adler 2011
Published by Nea Weissberg-Bob
Lichtig-Verlag, Berlin 2011
ISBN: 3-929905-26-4
Price: EUR 14,90


Lichtig-Verlag


To order please contact Lichtig-Verlag
Lichtig-Verlag oder den Buchhandel.
Bestellung zzgl. Porto und Versand (Inland/Ausland).



Sammel-Bestellformular



Fax-Bestellformular [pdf]



Diese Seite drucken